Paul Andres awarded Certified Healthcare Financial Professional (CHFP) from HFMA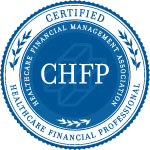 The Billing Pros' Paul Andres has received Certified Healthcare Financial Professional (CHFP) designation by the Healthcare Financial Management Association (HFMA). Paul is Director of New Business Development for The Billing Pros.
The flagship CHFP program provides the broad range of business and financial skills essential for succeeding in today's high-value healthcare environment, including
Business acumen
Collaboration
Financial strategy
Understanding future trends
The CHFP is geared toward financial professionals, clinical and nonclinical leaders, and payers – all those whose jobs require a deep understanding of the new financial realities of health care.
With more than 40,000 members, the Healthcare Financial Management Association is the nation's premier membership organization for healthcare finance leaders. HFMA builds and supports coalitions with other healthcare associations and industry groups to achieve consensus on solutions for the challenges the U.S. healthcare system faces today. Working with a broad cross-section of stakeholders, HFMA identifies gaps throughout the healthcare delivery system and bridges them through the establishment and sharing of knowledge and best practices. HFMA helps healthcare stakeholders achieve optimal results by creating and providing education, analysis, and practical tools and solutions.